19.03.2018 19:36
Winning and fathering: Canadian hockey player enjoys a marvellous year in Brno
Alexandre Mallet now knows that even the life of hockey player is not all about scoring goals, making saves or hitting rivals. He is raising his little baby and still realizing a lot of things have changed in his life.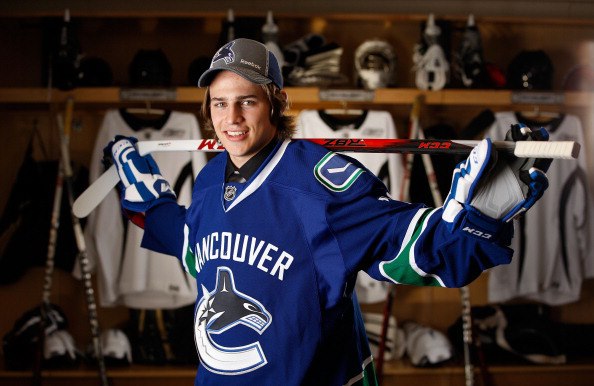 There are twelve Canadians in the Czech Extraliga of ice hockey but only one is playing for Kometa Brno. Alexandre Mallet is the first player from Canada, who won Czech hockey championship with the famous Brno hockey team. It happened just before one year without a month.
We met at the stadium after a training and he looked relaxed. "Čiau," he said with laugh, trying to show effort to learn Czech language. Alex loves this old Rondo stadium, where the history of hockey in Brno is being made. He still can't believe what he has experienced here. "Even a few months after we won play-off I was saying: What the hell just happened? It was really crazy season," Alex recalled.
Alex started last season in Pardubice but it didn't run very well there and he played only few minutes per game. Despite all the Kometa hockey club chose him in January transfer window. The chairman of the club wanted Alex to play for Brno. "Libor (Zábranský) gave me a great opportunity. I played for the worst team, then for the best team. I will never forget. When you got to Brno, where is a good team and a good system, it is easy to perform your best," he said.
After the winning season, the Canadian forward got a nice contract for another two years. Moreover even more joyful thing happened to Alex and his girlfriend in last summer, when little baby Lea was born. Since September they all have been living in Brno. "We have got a nice furnished apartment. We enjoy a lot of fun. It is really great to see how fast Lea is growing. She brought more lively life to our family but it also means more responsibility," Alex nodded and thought about his new role.
He is 25-years-old though you would maybe guess him to be a teenager. Daughter has definitely changed his outlook on life. "You got a bad hockey game but you come home and baby is looking at you, your dog is smiling. It is just great, they are there for you," said. Earlier, he surely didn't imagine he will raise a child in the center of Europe.
Alex is a native from town Amqui with seven thousands inhabitants in Quebec. He started with skating when he was three and playing hockey at five. Obviously, hockey is something like religion in Canada but nothing traditional for Mallet's family. "No, it is just the most popular sport. I was playing and invested a lot of energy as a child. It was the best way for my parents to cheer me up. Go play outside, then you won't be so naughty," Alex said with laugh.
At fifteen he had to leave Amqui in order to play Canadian junior hockey league. In 2012 Alex was drafted by Vancouver Canucks, so he belonged to the best players of his age. "It was great feeling and great season," said. But he has not got to NHL (National Hockey League in Canada and the USA - it is undoubtedly the best hockey league in the world) yet. "NHL is very competitive. You have to perform an impeccable way. If you don't, new kids come and take your spot," Alex shrugged.
He was waiting in vain for an opportunity at the best hockey league and meanwhile struggling at wild East Coast Hockey League nicknamed "Grave of Hockey" according to its game style. Therefore Alex decided to try luck in Europe. "I didn't know what to expect. But they didn't give me a chance in Canada, so I took it here. At least someone believed me. I wanted to try it anywhere and the Czech Republic proved to be a great choice," he said.
There is a distinct accent in Alex's voice. Naturally, Quebec is famous for its French speaking population and his first language is French. He returns to Canada every summer and always looks forward to parents, friends and wonderful nature. "You can do anything there. We have got big mountains, lakes for boating and a nice river for fishing salmons. It is possible to hunt deer or moose, in winter you can ride ski-doo."
Alex misses his homeland every season but once he decided to play hockey, he has to sacrifice something. And the likeable brown-haired forward knows it well. He is popular with fans and already got used to living in Brno. "I often go downtown and to the mall, where is a great cinema. The city is beautiful, people are nice and they understand English. I slowly learn Czech but my teammates teach me mainly rude words," he revealed.
Alex doesn't think much about future. He stopped studying in Canada because of hockey and holds the view school isn't the most important thing. "I am interested in real estate or manually work after hockey career. I will see," he said. Now Alex is focused on play-off, which is already in progress. His Kometa is the defending champion and already defeated Vítkovice in the first round.

Klíčová slova: ice hockey, HC Kometa Brno, Czech Extraliga, Alexandre Mallet, Canada, profile story
Fotogalerie
Hodnocení příspěvku
1 | 2 | 3 | 4 | 5 (1 - nejhorší, 5 - nejlepší)
Vkladání nových komentářů skončilo.
AUTOR
Zobrazeno 1175×
Hodnocení 3.4 z 5
NEJNOVĚJŠÍ
12. 12. 2018 00:39
11. 12. 2018 15:41
10. 12. 2018 16:43
09. 12. 2018 23:04
09. 12. 2018 22:22