10.04.2018 11:47
Canisterapie na Novoměstsku pomáhá seniorům, dětem i hendikepovaným
Léčebný kontakt člověka se psem neboli canisterapii provozuje v Novém Městě na Moravě a blízkém okolí Jana Mašterová se svými dvěma fenkami. Přítomností psů začínala léčit seniory, nyní však pomáhá kde to jen jde – dětem předškolního i školního věku, hendikepovaným a brzy i pacientům novoměstské nemocnice.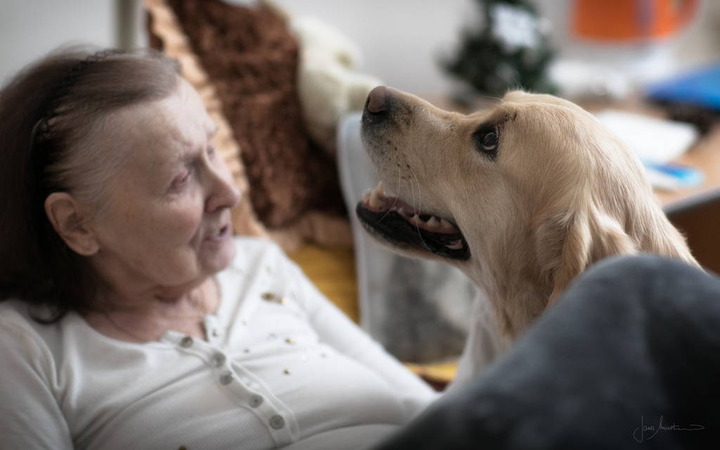 Nové Město na Moravě – Ochrnutá půlka těla a amputovaná noha – s tím se nyní léčí Miroslav Mašek v nemocnici v Novém Městě na Moravě. Jinak pobývá v Charitním domově Moravec, kam za ním a dalšími pacienty dochází Jana Mašterová se psím doprovodem. Proto je v současnosti jediným pacientem, kterému ve zdejší nemocnici pomáhá ke zlepšení psychiky canisterapie.
To se má však brzy změnit. "Mohu potvrdit, že s paní Mašterovou řešíme budoucí spolupráci," uvedla sociální pracovnice novoměstské nemocnice Lenka Švaňhalová. Ne jeden pacient se otáčel za pejsky se zájmem a podporu měla majitelka fenek i u zdravotníků. "Občas se tu na mě někdo ze zaměstnanců udiveně dívá, co tam dělám se psem. Většinou se však setkávám s přátelskou a milou reakcí," řekla majitelka dvou canisterapeutických psů Jana Mašterová.
S canisterapií začala Mašterová po řádném výcviku v místním Domově s pečovatelskou službou. Brzy projevil zájem i denní stacionář Centrum Zdislava. "Klienti si se psem pouze nehrají, také se učí o něj starat. To rozvíjí jejich schopnosti a navozuje dobrou náladu," sdělila vedoucí provozu Centra Zdislava Miroslava Horváthová.
Dále dochází Mašterová s fenkami Joy a Rose do mateřských školek a základních škol, kde děti starost o psa učí především ohleduplnosti a zodpovědnosti. Canisterapie pomáhá i seniorům ve zmíněném Charitním domě v Moravci. "Na klienty mají pozitivní efekt jak pejsci, tak i jejich majitelka. Je to pro ně způsob uvolnění a zpestření všedních dnů," uvedla zástupkyně ředitele Charitního domu Moravec Petra Řezáčová.
Jedná se o pomáhající práci, která je ale velmi náročná pro psy i jejich majitele. "Po návštěvách všech zařízení, kam docházíme, si musím já i pejsci odpočinout. Zastavíme se třeba v přírodě nebo se těšíme z chvíle klidu," řekla Mašterová. Většinou však pomáhá všem potřebným zadarmo. "Snažíme se alespoň vynahradit pejskům jejich záslužnou činnost krmivem nebo jinými dary. Je to ale hrozně málo za jejich práci," okomentovala Řezáčová.
Ke canisterapii se Jana Mašterová dostala náhodou. "Jedna z fenek dokončovala lovecký výcvik a v pejskařské komunitě byla paní s canisterapeutickým psem. Následně nám pomáhala i s přípravou na zkoušky," uvedla Mašterová. Zprostředkování léčebného kontaktu psa s člověkem má majitelka fenek Joy a Rose pouze jako volnočasovou aktivitu stejně jako focení. "Ráda fotím i během canisterapie. Je to spojením mých dvou zájmů," doplnila Mašterová.
Klíčová slova: canisterapie, psi, Jana Mašterová, Nové Město na Moravě
Fotogalerie
Hodnocení příspěvku
1 | 2 | 3 | 4 | 5 (1 - nejhorší, 5 - nejlepší)
Vkladání nových komentářů skončilo.
Přehled komentářů
п»ї10 Social Media Marketing Tips for Small Business Owners Are you taking advantage of Social Media to improve your business? Facebook and Twitter been proven to be valuable assets to small business owners, authors, and public speakers. However, many fail to use social media properly, consequently, not reaping the benefits. Social Media can be a powerful tool for small business owners, if done correctly. In order to reap the benefits of social media it's important to have a strategy in place. Below are 10 Social Media tips that can be beneficial to your small business. 1. Meaningful content-You've heard that content is king, that's still true in social media. Say things that will leave an impact on your clients. They want to know that you are a professional, and they can trust you. 2. Professional Branding Design-When people view your page, it should be visually appealing. If your page is plain, there is a good chance that people may not stay on the site. You could have the best social media strategy in place; it's time and money wasted if few people see it. 3. Integrate Social Media with traditional marketing efforts-Press Releases are still effective in marketing. When you tweet your press release or put it on Facebook, magic can happen! You will be getting more exposure from twitter followers and Facebook fans. 4. Connect with people in your industry or potential clients- Social Media is here for networking. On Twitter, follow people that you want to do business with. And interact with them, comment on their tweets. 5. Use hashtags on twitter-When people search the subject of your hashtag, it can be a way of creating new followers. 6. Facebook ads-Facebook ads are an inexpensive way to gain more fans to reach your potential customers and grow your fan base. It is a cost effective way to bring awareness to your brand and drive traffic to your site. 7. Schedule your tweets and Facebook statuses- Consistency is vital in social media. When you schedule your status updates, it will insure that you are being consistent with your social media. In order to get results, it is important to stay active in social media. 8. Integrate all social media accounts-Connecting all of your social media accounts is a great way to stay connected with customers. If a customer is activity connecting with you on Twitter, there's a good chance that they would want that Facebook connection as well. 9. Be real and Be yourself-People want to know that they are talking to a real person. Although, social media tools such as hootsuite will allow you to schedule your tweets. You should tweet things in real time. Ask questions about their weekends, clients love that type of interaction. 10. Listen and respond-If you have a fan or a follower, they want to connect with you. If they tell you something about your business, listen. Respond, even if they say something negative. They are the reason why your business exists, and when you take the time to listen to them, it shows that they matter. When correctly used, Social Media is an excellent tool used by many small business owners. And can take your business to the next level. By using these tips, you will be using social media to the best of your advantage. Visit site: http://gameone.club/ General Hospital's 50th anniversary
п»їWhat Do High-end Ecommerce Websites Consist Of It is clear why clever business people place their websites within reach of professional manufacturers a well-designed blog helps secure the target shopper. But what exactly do high-end ecommerce web pages actually comprise? High-end ecommerce internet sites have match ups with serious browsers Skilled professionals designed internet sites are that will work with the most popular computer system platforms and also major the forefox browser. One can not know which internet browser the target potential customers use to observe an online marketing website, for this reason experienced web site designers make sure that by landing to obtain, every web page renders through all popular surfers. No matter which technique is used, emarketing websites cant afford to look deformed, nor when they have been unclickable links it may be a complete turn-off intended for potential prospects. High-end ecommerce sites have a user-friendly program To make ecommerce websites as good as billboards on grabbing notice, designers begin using a host connected with techniques. Several web designers could possibly tend to work to the point of overkill nonetheless sometimes you don't need to to use a sledgehammer to hack a enthusiast. Lots of Online searchers admit the fact that eye-catching but poor loading pages and posts, moving messages and pop-ups connected with an ecommerce internet site may be instead annoying. The ultimate way to draw in targeted visitors is to be user-friendly. An online design agent, which is on the vanguard of the spike in creative development, is capable of turning any website to a real curiosity grabber. High-end ecommerce internet sites have good content Making casual web browsers want to stay a bit longer? One of the alternatives may be to offer him or her engaging together with fresh articles. It is true for both wording and images. Dedicated web development professionals should have a firm grab of varieties business suggestion to develop your content which reflects it with the best way. A fantastic ecommerce website has outstanding graphics plus well-written engaging descriptions featuring the most up-to-date figures. It is a great idea so that you can outsource through professional content material writers as well as photographers to produce casual targeted traffic want to browse through page after website page. The well-organised written content may help online sites occupy the largest positions in the search engine listings which ends up in more traffic mathematically, the majority of Internet users dont carry on with results further than the earliest two pages of content. High-end ecommerce web pages have quick navigation Just what a website appears like is important however , functionality is usually vital. E-commerce websites can facilitate your sales process but shoppers may fast switch to get competitors emarketing website when the lay-out is not certainly road-mapped. High-end websites have easy nav; at the same time, these people arent disheveled with links. Since most customers go online saving time, skilled designers be certain that they can reach the necessary information by having a couple of critical. A clear chain of command is especially required for websites offering up a wide range of offerings. To make your search practice easier and quicker, web developers leave room or space in the web-site structure for the purpose of on-site search engines which permit customers that will navigate the web page by system category, expense, brand, or anything else. High-end ecommerce website pages have a quick-click investing in procedure The well-designed ecommerce web site offers people convenient transaction solutions. In keeping with Boston Advisory Group, close to 65% of Internet users leave web-sites when they have gotten to the have a look at page. Among the main reasons why Web customers forego shopping golf carts at the previous moment, professionals name the particular slow or even unclear fee procedure. Specific web design professionals reduce the volume of steps which usually customers have to take to obtain the necessary goods. If the settlement procedure presupposes enrollment, customers are notified about that ahead of they reach the checkout. In the event there are any additional costs, which you'll find added to the next price on the last period, customers are knowledgeable about that before you go. The choosing process of high-end internet commerce websites remains safe and secure and effective. High-end ecommerce web sites have a well-substantiated amount Even a high-end online website now that outgrows the present ecommerce solutions and really should be optimised. Savvy entrepreneurs, diving scalp first towards the world of internet commerce, prefer to pay once so you can get websites which are not going to charge the earth to remain redeveloped. Websites, of which cost less to build, may turn trying to be too costly to optimise, so a important to have the right expense. Visit site: http://gameone.club/ affiliate marketing companies in kenya
AUTOR
Zobrazeno 1857×
Hodnocení 3.3 z 5
NEJNOVĚJŠÍ
30. 03. 2021 21:57
28. 02. 2021 09:32
27. 02. 2021 08:08
27. 02. 2021 08:02
19. 01. 2021 21:28